All parents want to see their baby standing up. Nothing can beat happiness and joy for both babies and parents when the baby takes its first step. Therefore, when a baby begins to crawl from one place to another, parents should try a walker for their babies. The best baby walkers keep your child busy and engaged with interactive toys, musical sounds, or mini light shows and help them learn all about numbers and ABC in multiple languages.
Baby walkers are a significant advance in improving your child's motor skills that will help him walk completely on his own. However, they were designed for babies to generate momentum and build muscle for a good standing position. They really hold your child through the initial phases of figuring out how to stand and walk.
We've thoroughly researched and tested dozens of baby walkers to bring you this list of the best baby walkers on the market.
Let's check out the top ten best walkers for toddlers:
10 Best Rated Baby Walkers of 2021
| Image | Product | Why It's Best | Price |
| --- | --- | --- | --- |
| | Joovy Spoon Walker | This lightweight baby walker has a simple design with an oversized tray and builds baby confidence to take the next step. | Check Price |
| | VTech Sit-to-Stand Learning Walker | This baby walker comes with a lot of toys and songs, even the toy tray can be removed for floor play. | Check Price |
| | Tiny Love Meadow Days Here I Grow 4-in-1 Baby Walker | This mobile activity center has four modes to entertain babies and comes with one year warranty. | Check Price |
| | Radio Flyer Classic Walker Wagon | This wooden walker has a solid build design and offers large storage space, so babies can put their favorite toys. | Check Price |
| | Safety 1st Dino Sounds 'n Lights Discovery Baby Walker | This baby walker comes with an affordable price and basic design. It works well on both carpets and floors. | Check Price |
| | Safety 1St Ready, Set, Walk! Dx Developmental Walkerlker | This baby walker has numerous functions to entertain the baby, and the fabric seat is comfortable and machine washable | Check Price |
| | Storkcraft 3-in-1 Activity Walker | This multifunctional has an interactive toy tray that is removable, by removing the toy tray it can be converted into the feeding tray. | Check Price |
| | Bright Starts 3 Ways to Play Walker | It is the best baby walker for multiple children. Two babies can play at the same time. | Check Price |
| | Disney Baby Minnie Mouse Music and Lights Baby Walker | It is the best baby walker for girls because of its pink color. This baby walker comes with four Minnie Mouse-themed toys and 12 different songs. | Check Price |
| | Chicco Walky Talky Baby Walker | The first multilingual baby walker to entertain babies with fun melodies and help them to learn all about numbers and ABCs. | Check Price |
Top Ten Best Baby Walker Reviews
---
1 Joovy Spoon Walker | Best For Hardwood Floors and Tall Babies
---
Joovy is an American company. If we talk about baby related-products Joovy is one of the famous names in it. This top-notch baby walker looks just like the traditional sitting baby walker, which comes with some extra features, style, and the highest degree of safety levels. Joovy Spoon Walker is a perfect pick for parents looking for comfort and the best baby walker for tall babies.
Best of all, it is a lightweight baby walker (only about 12 pounds) and folds up nicely for easy storage. This best sit-in baby walker comes with an oversized tray that can be used for eating or for placing lots of toys on top. It has a removable insert that is easy to clean and has a wide base, which helps to ensure that little fingers do not get pressed during the walk.
However, this baby walker comes with a maximum weight capacity of 30 pounds and is designed with a maximum height of 33 inches. The dimension of this walker is 27.75 x 25.5 x 18 inches and 27.5 x 25.5 x 9 inches when folded. The seat design appears to be supportive, durable, and comfortable to use. The seat is easily removable and washable and can be used again after washing which is great for those inevitable diaper explosions.
Also, It adjusts in three height positions, which is great. The oversized wheels make it perfect for running well on carpets. And it has rubber stoppers at the bottom of the walker that prevents the baby from going more than one step. Joovy made it collapsible for easy storage and transport. It does not contain BPA, PVC, or phthalates. It is the best baby walker for hardwood floors and low-pile carpets.
Related: Best Baby Walkers For Carpets
---
2 VTech | Best Sit to Stand Walker
---
Babies will love this VTech Sit-to-Stand learning walk. This interactive learning baby walker is designed for children who already know how to walk, but need support to stand. It helps your child from a crawler to a walk and develops their motor skills. The best feature of this walker is that it can grow with your baby and has a removable toy bar.
Before moving on to another option, keep in mind this advanced baby walker is not just a walker. It is also a portable toy.
This interactive baby walker comes with a fully removable floor play panel and a frustration-free package. Moreover, it has five piano keys, allowing the child to play music and encourage the child's levels of creativity, which is good for learning exposure.
Fortunately, the Vtech baby walker comes with adjustable foot locks to control its speed and movement. If your baby lacks balance and stability while walking, you can set it to lower. Or, you can set it to lock mode for babies who are learning to stand.
Moreover, it has two colored rotating rollers, three different sorters of light-up shapes, gears, and three ignition buttons that will stimulate the child's learning and develop their motor skills. It also has a pretend telephone (wireless) to improve the role-playing game for fun, which keeps the youngster busy. This interactive toy walker comes with different 70+ songs, playful melodies, fun sounds, and phrases, which is great for infant babies and toddlers. It has a sensor that triggers cheerful sounds while your baby walks.
This interactive baby walker is foldable for easy storage and travel. It measures 16.5 x 14.2 x 18.1 inches. The 2AA battery is required (included). It comes in many colors. It works properly on both carpets and hard floors.
---
3 Tiny Love Meadow Days Here I Grow 4-in-1 Baby Walker
---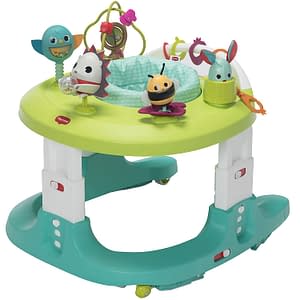 The Tiny Love Meadow Days Here I Grow 4-in-1 Baby Walker and Mobile Activity Center is the only entertainer that every single parent needs for so many reasons. This mobile activity center includes multiple functions in one piece to entertain a baby and stimulate your child's early development that inspires them to learn and grow.
This versatile toy can be shaped into four modes of use: stationary activity center, push-along/walk-behind, jumper, or sit-in walker, allowing it to encourage your child's growth and develop gross motor skills. It has more than 28 featuring activities that a baby needs in one product to play. This baby walker opens the door for baby imagination and motivates them to discover a new world around them by touching the fun animal-themed toys with vibrant colors and fascinating textures.
Furthermore, the Tiny love walker comes with three adjustable height levels. As the walker grows with the baby, the position can be easily changed, so that the baby continues to play safely. It might be safest, simply lock the wheels, so the baby can play with these stationery toys and revolve around them. Even, when the baby pushing the walker or they practice walking, it remains stable in its shape to prevent the baby from a crash into furniture or wall.
A 360-degree turning seat encourages the baby to fully discover environmental factors and to be part of multiple activities that stimulate physical and mental development. The seat pad is adjustable with a zip and is machine washable. If the walker is not in use, you can nest them together and place them inside the outer frame for easy storage and transport.
---
4 Radio Flyer Classic Walker Wagon | Best Wooden Baby Walker
---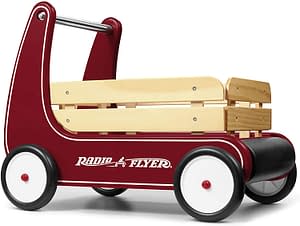 This classic look Radio Flyer Classic Walker Wagon is a favorite for both babies and parents. It is made of wood, which provides a fantastic look, with a sleek classic design that makes this walker beautiful and attractive. If you are looking for a baby walker that you can take outside of your home, go with this best outdoor walker.
Besides, this wooden push walker has several benefits. First, the wooden side panel can be easily removed if necessary. Second, when kids are moving too fast, the robust design of this push walker and the "hold-push" feature keep little ones upright and stable, so that new walkers can learn with confidence and balance.
Third, the tall wooden sides give a classic look and create a perfect toy box for your child. The classic Walker trolley offers additional storage space, so your little one can store their favorite toys and go for a walk to join each adventure.
Finally, with the natural solid wood body and a fantastic look, it is also excellent for the interior; the rubber tires and rubber bumper at the front save your furniture, walls, and floor from scratch and scuff while your little one learns to walk.
As a walker, it is much heavier than plastic walkers. Therefore it does not steer easily like other plastic ones. Wood and other materials make it durable and sturdy as compared to plastics children's walkers. The classic walker wagon has a maximum weight capacity of (35 pounds), so they can put their stuff or animal in this wagon and push it around. It is the best baby walker for outside.
---
5 Safety 1st Dino Sounds 'n Lights | Best Baby Walker For Small Space
---
The Safety 1st Dino Sounds 'n Lights Discovery Baby Walker is a great entertaining toy walker and a learning activity center for your toddlers. It comes at a very reasonable price and has a basic design. There are numerous affordable products to buy, but we think you'll never turn them down when you look at this price and its great features.
This all-inclusive baby walker gives your child explosive playtime and the freedom to move while learning to take the first step or on the go. This dinosaur-themed baby walker has a largely hidden snack tray and two separate activity trays. Activity trays are different from the others; these two trays open to the left, or right to expose a wide tray. This large tray can be used for snacks or a sippy cup can be attached, allowing your baby to eat while playing with toys.
Also, this baby walker act as a bumper to protect your furniture, utensils, or gadgets. This baby walker attached a play-tray that offers five different types of toys that spin, wrinkle, light-up, rattle, and a different 12 sounds to keep your child busy and entertained for hours.
Besides, this durable walker has a sturdy wheel that works perfectly on carpet or floors. It comes with safety stoppers on the front side that reduce its movement when the front wheels are not mounted. The seat is machine washable, and the toy tray is also dishwasher safe; you can remove the snack tray and clean it easily with a clean damp cloth.
Moreover, this walker gives you three options for adjusting the height. The minimum adjustment position of this baby walker is acceptable only for children over nine months. This compact baby walker can be easily folded for storage or travel, and you can even take it with you when you leave with family or friends.
Unfortunately, the battery that powers electric toys to play music or lights cannot be replaced. Overall, it is the best buy baby walker in this price tag.
---
6 Safety 1st Ready, DX Developmental | Best Baby Walker For Wood Floors
---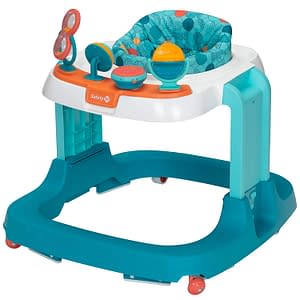 With its simple, imaginative design and its numerous functions, it is the perfect option to go with Safety 1st Ready, Set, Walk! DX Developmental walker. This baby walker allows the kids to stretch their legs slightly when playing with toys and having fun.
The Safety 1st Ready walker offers three height adjustment settings. You can set the different height levels as your little one grows. This rich-feature baby walker can hold babies up to a maximum weight of 30 lbs. This baby walker is designed with a maximum height of 32 inches and a size of 28 X 24 X 7.
It comes with a tray for fun activities, which has three sound toys and 12 different songs that keep children busy and stimulate their hearing and visual sense. The flat round toy has a musical note, so you can flip the switch to the ON position to play music. The toy bar is easily removable and provides a large tray for snacks. It means you can use this tray to feed your kids. Once the kid finishes eating, you can wipe it to clean with a rough cloth.
The front wheels of this baby walker can move in any direction; the rear wheels are stationary, allowing the walker to move with them. This baby walker has an extra-wide base that provides stability on an uneven surface and prevents it from hitting the wall when running into it. This walker is quickly locked together for storage. The fabric seat can be machine washed.
---
7 StarCraft 3-in-1 Activity Walker | Best Baby Bouncer Walker
---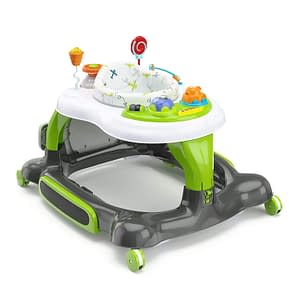 For 70 years, StarCraft has produced affordable, innovative, safe, and build quality products for families, kids, infants, and toddlers. They always design creative and unique quality products for those from Joovy, safety 1st, bright stars, Disney, and delta children.
The StarCraft 3-in-1 activity walker is a multifunctional model that provides more than a regular walker. It offers three modes for babies to play. First of all, it has a removable interactive toy tray with many toys to keep your little one busy and entertained with steering wheels, ice-cream cones, lights, and buttons with music. Detaching the toy tray offers a large feeding tray that can be used for eating, or you can place some of your baby's favorite toys for entertainment.
Second, this activity walker comes with a jumping board; by using this fantastic jumping function, little ones can bounce and enjoy more. It's great that it has a removable jumping board; by removing the board it can be used as a mobile walker.
Third, it can be used as a rocker for more fun; when the bounce board is attached, the rocker allows your child to stay there and hit it back and forth to swing. The 360-degree swivel seat ensures that your child moves in all directions to play with all the toys and have fun. This walker has rubber wheels that prevent the floor from scratching and sliding smoothly on floors.
This baby walker has three height settings to make it comfortable for your babies. The first lowest setting is approximately 7 inches, the second-lowest setting is about 7.5 inches, and the highest setting is around 8 inches. The dimension of this 3-in-1 activity walker is 26 X 19 X 17. It is recommended for babies below 30 inches in height and 26 pounds in weight.
---
8 Bright Starts Ford F-150 3 Ways to Play | Best For 6 Month Old Baby
---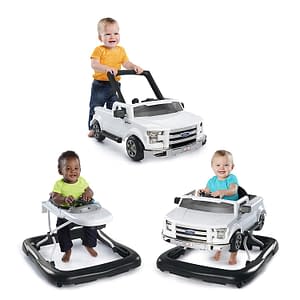 Baby will love taking the driver's seat and rolling it around. You can't wait to see the joy on the little faces when they are strolling on the Bright Starts Ford F-150 3 Ways to Play Walker. This multi-function walker is designed for babies to hold their steps at any stage and activity level.
This amazing 3-in-1 walker offers three modes to have fun during playtime: push-alongside car seated walker and plays together. First, you can use it as a simple walker. Second, if you want to use it as an advanced walker, you just need to remove the car and, you can use it as a push car. Finally, if you have multiple children, two babies can play at the same time. When the forward push car is already in use, another baby can use it as a normal walker to sit on.
However, the battery is placed inside the steering wheel to operate music, beeps the horn, and lights. Also, the steering wheel occupies a power button that allows to turn it on or off to play music and is easily detachable which is used for playing on the floor or on the go. The toy station has a volume control switch that allows you to adjust the volume according to your choice.
For all that, this foldable baby walker is designed for easy storage and portability. To improve safety, it has a rubber bumper that is used as feet to prevent the baby from hitting an uneven surface. The seat can be easily cleaned by throwing it into the washing machine where needed.
Moreover, this baby car walker has a great option to transform its height into three positions to keep the little one at the ideal height. Always make sure your child's feet touch the ground when sitting in a walker. It has a dimension of 28 X 25 X 20 and a weight of around 12 pounds. The maximum weight recommended for sitting is approximately 26 lbs. And the maximum height is 27 inches.
---
9 Disney Baby Minnie Mouse Music and Lights | Best For Girls
---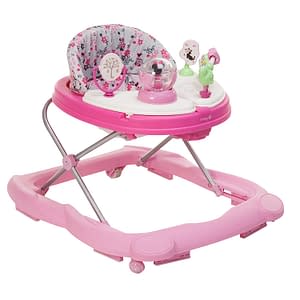 Disney Minnie Music and Lights Walker, Garden Delight is one of the best baby walkers for girls. The Minnie Mouse design and its pink color are a perfect selection for children who like to see Minnie Mouse. This walker comes in a pink color that is very attractive to girls and encourages them to play with this activity center.
This baby walker brings magical fun while kids play with their favorite Disney music, lights, and characters. It keeps your little one entertained by offering four fun Minnie Mouse-themed toys placed on the top of the tray. The Minnie Mouse singing ball allows them to play 12 different types of songs that help children to improve their strong listening skills.
Plus, this baby gear includes two activity trays that can be swung open to reveal a large snack tray. Furthermore, it has a sturdy wheel that rolls perfectly on all types of floors or carpets. It has a grip band that reduces movement on an uneven surface and provides better surface control.
The weight of this baby walker is about 12 pounds.
While this is true, the seat pad does not rotate, but you can remove the seat and wash it to clean it. This baby walker is easy to fold, requires a bit of space in your room to store, or you can even put it in your car and take it along for the picnic. It is the best baby walker for small spaces.
---
10 Chicco Walky Talky Baby Walker, Flora
---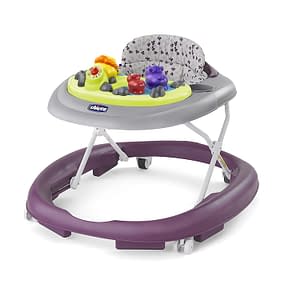 The Chicco Walky Talky Baby Walker is a modern infant walker that helps the baby to grow in many ways. This walker offers an opportunity for the little ones to learn all about numbers, ABC, and colors at an early stage. The Chicco Walky Talky Baby Walker is a perfect choice for parents looking for safe, comfortable, and entertaining baby walkers for their children.
Specifically, It is the first multilingual walker to entertain little one with fun melodies, alphabetic and numeric characters, and fun phrases with six different sound languages. This amazing walker comes with a removable play tray, and when your little one is not moving, you can remove the toy tray and use it as a stationary toy.
Indeed, the comfortable and soft seat pad is removable and dishwasher safe for ease of use. This unit comes with three adjustable height levels so you can set the height as your baby grows. Despite, built-in brake pads, this is one of the best baby walkers for safety features. The brake pads ensure the safety of your child by preventing them from going down the stairs. It has a bumper protector that prevents the walker from scratching the walls or furniture.
Moreover, the wheels can be easily removed and can be used as a stand-alone stationary activity center. Also, the front wheels rotate 360, so your baby can turn anywhere in the house, Wheelworks fine on carpets and hard floors. Similarly, the maximum recommended height for this walker for a baby is 33 inches, and the weight is 27 pounds. It is the best walker for babies 6 months or above.
---
Important Features To Consider When Buying The Best Baby Walkers
There are so many walkers in the market that come with different functionalities. And it can be difficult for parents to choose which one is most suitable for their kids. Here are some important features to consider before choosing which activity walker is best to buy.
Manufacturer:
The top manufacturer is always focused on providing high quality, safe and innovative products to help their business to become global. Always go for high-class manufacturers they provide best baby gear for your kids.
Age and height:
Many children are different from each other based on their height or weight. And considering the age of your children, it is the most important thing while selecting the best baby activity walker for your little one. Always go for a baby walker that can be customized in different positions to grow with your baby. Also make sure your child's feet touch the floor and feel comfortable when sitting in the walker.
Safety:
Babies are too young to understand risks, and at this stage, they tend to be smart and sneaky. It can be risky if you leave your child alone. Here are some safety features that you need to remember when going to buy a best baby walker.
Ensure that baby walker required by the mandatory safety standards.
Always choose a baby walker that has locks on the wheels or stoppers to ensure the child's safety.
Ensure that there are no sharp edges or places that could cause finger cuts.
Don't let your baby use the walker for more than 20 minutes.
Never leave your babies unattended when they are using a walker.
Folding Mechanism:
Always look for a foldable baby walker because, they convinces parents to take it with them wherever they go and save a lot of space in their car due to its compact size. In all, when the walker is not in use by the baby, it can be folded quickly for easy storage.
Additional Features:
There are a lot of baby walkers that come with some extra features. So, the choice is yours what you like best for your children. Some walkers come with sounds in several languages that help your child to learn ABC's, and 123. And most baby walkers come with themed toys and extra-large trays to entertain the kids.
Warranty and price comparison:
The warranty is an important part when buying a best baby walker. Always look for a baby walker that has a longer warranty for better and longer use. Always make a price comparison from different stores and platforms, this will help you to choose a suitable baby walker according to your budget.
---
Best Baby Walkers Buying Guide
There are some valuable tips that may help you to choose the best walkers for infants.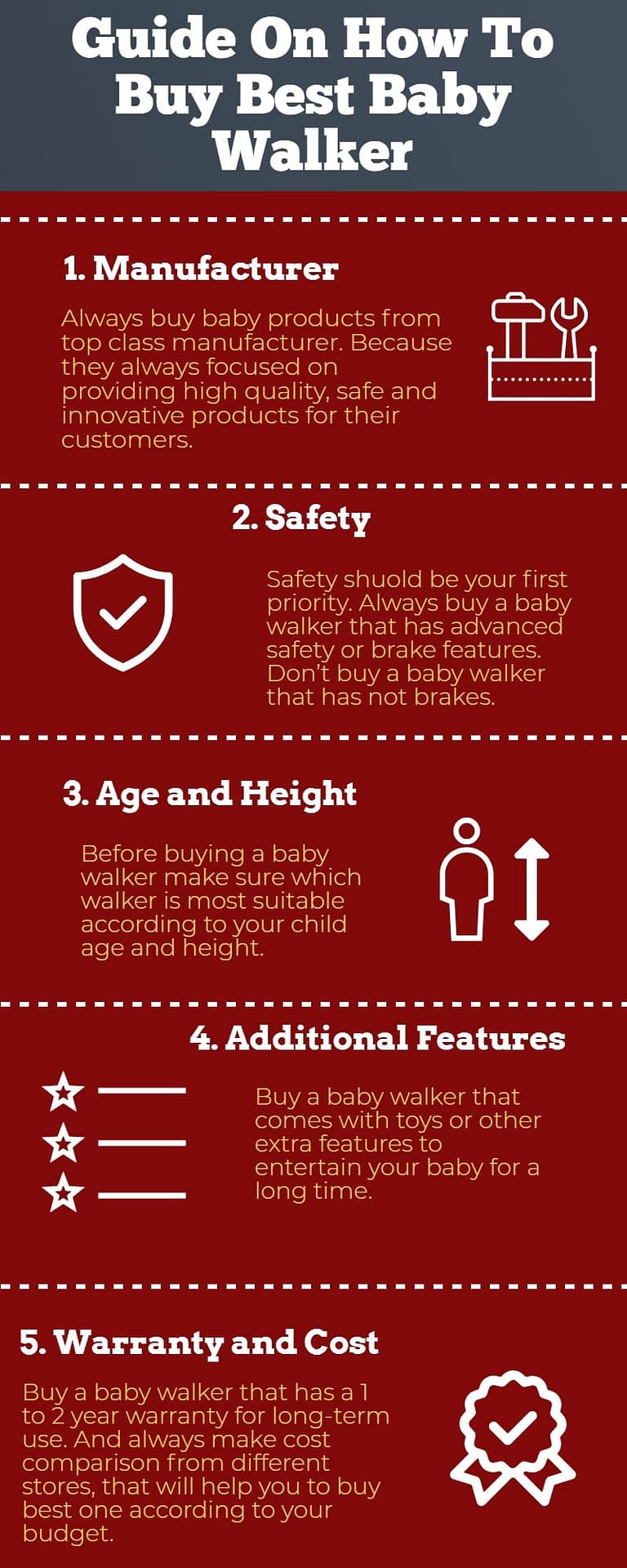 ---
FAQs About Best Baby Walkers
---
What age is best for a baby walker?
There is no fixed age for a baby to use a baby walker. It depends on the baby. Some babies start walking at 9 months, and some cannot even start at 15 months. If your child is unable to walk for 16 months, you need to see a doctor.
Before making a decision, the thing that must be considered in the development of the baby. Mainly, walkers are designed for babies from 4 months to 16 months. And, when the baby is able to keep his head constantly upright, and his feet touch the ground while sitting in the walker, he can use the walker.
Why are baby walkers banned?
The American Academy of Pediatrics (AAP) has stated that baby walkers are dangerous items and do not provide any benefit to children. Giving babies a walker is like giving them a Ferrari. Above all, baby walkers caused many injuries, such as skating on wet floors, tripping and fall over, and rolls down from stairs, etc. The most common injuries are head or facial injuries, broken legs, or arms caused by falls.
Do walkers cause bow legs?
No, baby walkers do not cause bow legs. It is part of natural growth and develops in the child in the first year. Some babies can be born with bow legs. Therefore, parents should not worry about this because it is natural. As the baby grows, her/his legs continue to straighten out.
For more details, Click Here.
What can I use instead of a walker?
As (AAP) suggest that the baby walker can delay development and lead to various injuries. Therefore, some doctors recommend that you can use a baby jumper or activity center to sit or stand instead of the walker. Because the wheels are not attached to the stationary walkers, and your child can play with these toys while sitting.
Conclusion:
The best baby walkers can be a great option for your babies because they teach them early how to walk and build confidence in standing. It also makes them independent.
We suggest that you go for a V-tech sit-to-stand activity center because it has many functions to entertain your baby. It is only a push walker and your child cannot sit in this walker.
Tinny Love walker is also a good choice for your child because it offers four functions in one unit. You can use it as a push-to-behind walker, a jumper walker, a sit-in walker, or a stationary walker. It comes with lockable wheels that ensure the safety of your child.
We suggest you never choose to sit-in baby walker because it may hurt your child by falling downstairs or any other accident. We recommend that you always choose a stationary walker, jumper, or best baby activity center for your little one. If you are buying a walker to sit on, make sure the walker has safety brakes or stops to avoid any type of injury.
Note:
Always watch your child closely and never leave them alone because if you go a second they could put themselves in danger.
---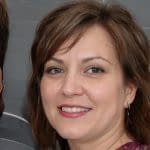 Hello everyone, Lucy Olsen is 40 years old and the mother of 4 children. She is a blogger and spent most of her time on creative writing. Lucy is American and helps mothers who live at home. In her spare time she loves to write blogs and articles. We hope this article helps all parents to choose the best products for their babies.
---